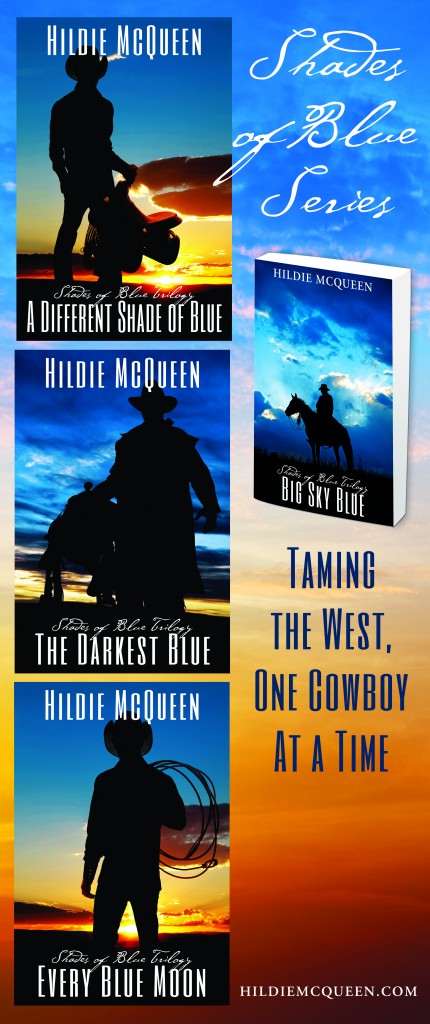 Announcing the Release of  Hildie McQueen's Shades of Blue Trilogy!
 Come You're invited!!
Bestselling Author Hildie McQueen is hosting a book release event for her historical western romance Shades of Blue trilogy on Monday, December 2,from 6:30 p.m. – 9:30 p.m. at the Bean Baskette Coffee Shop, 4144 Evans-to-Lock Road, Evans, Georgia.  Book signing, appetizers, giveaways and drawings.
A Shades of Blue Facebook party will be taking place on December 10th.  Go to Hildie's Facebook Page for more information.
Meet the Cole's of 1800s Alder Gulch Montana in the Prequel Big Sky Blue.
The shades of Blue Trilogy is available on December 1, 2013!
Desperate Betrayal    Where The Four Winds Collide     Highlander's Captive
"Fabulous worldbuilding, unforgettable characters and a compelling story." Author Joanne Brothwell
"Hildie takes you back in time where you find yourself wanting a cowboy for yourself."  Book Lovin' Mamas
"There are tears and joy and danger all wound into one awesome story." Under The Covers Book Blog

Email Me @  Hildie@HildieMcQueen.com