It's conference time, both readers and writers are overpacking shoving everything they can think of into a suitcase and a carryon, unless they are driving, then they are overpacking two suitcases and a box.
Only to arrive and find out they brought all the wrong stuff!
So I have worked and reworked packing lists, and here is one that will set you up for the basics.  Good luck and happy travels!
My suitcase for the upcoming Lori Foster Reader Author Get Together.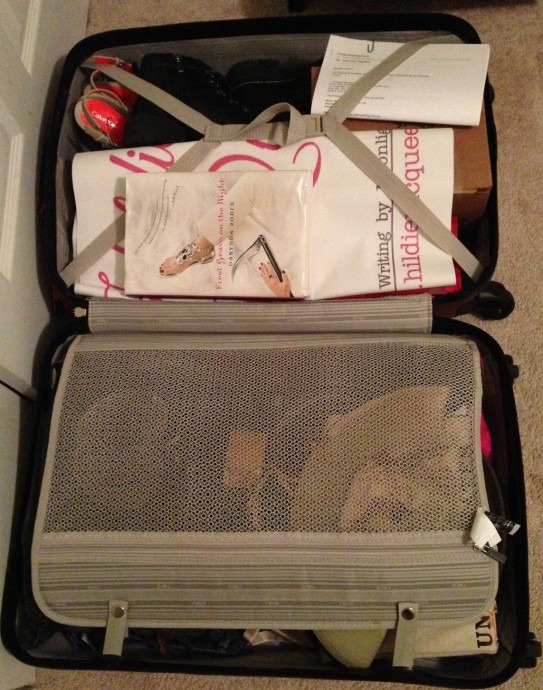 The Romance Writers/Readers Conference/Convention Packing List
(2-3 Days)
This fits in one suitcase, see above:
3 pair Pants
4 Blouses
2 Dresses (1 gown for special function)
Costume(s)
1 pair of comfortable shoes
1 pair of heels
4 sets of undergarments
1 set of pajamas
1 pair of warm socks
1 light sweater or wrap for cool rooms
Jewelry
Make-up
Face & Body Cleanser
Moisturizer/Lotion
Deodorant
Brush/Comb
Hair Products/Curling/Flat Iron
Sanitary Products
Toothbrush/Toothpaste
Razor
Tweezers/Nail clippers
Sewing kit/Safety Pins
Gum and Small snacks
A retractable sharpie pen for autographs!
A refillable water bottle
 I'm driving to Lori Foster's RAGT so I'm taking all of this with me. (Promo baskets for fundraiser, my rolling tote with books and swag for book signing, a prize bag for the Desert Breeze gang to finish stuffing with goodie and some gift bags for my book club peeps)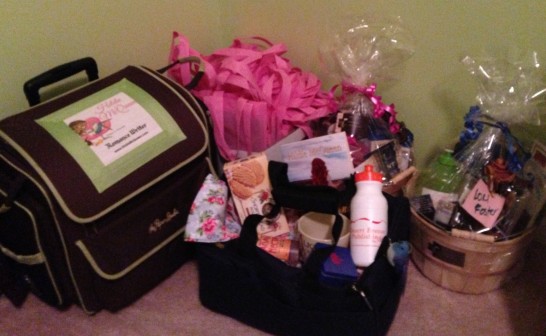 Misc Items Writers should have:
Sharpie Pens, the click type are the best
Baskets for drawings – (Send ahead if you can)
Swag for giveaway rooms & signing table – (Send ahead if you can)
Business Cards
Blurbs for pitches
Thumb drive with synopsis & manuscript of your WIP
Books unless provided, but you may still want to bring a couple
Postcards or bookmarks
Book poster or signage for signing table
That's about it for the basics, feel free to add to the list!