During the month of November, I participated in Nanowrimo, National Novel Writing Month.  The challenge was to write every single day and complete at least 50,000 words of a novel. 
I did it!!
I finished the first draft of "Where the Four Winds Collide", which is on it's way past 50k words and I wrote every day, even if it was just a few words.  
*Applause*  
Thank you, thank you very much.
Here is my badge of honor!!!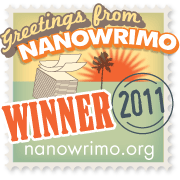 Now off to the next challenge!  Maybe I'll see if I can fly…
Leave a comment and either follow or subscribe to this blog and you will be entered to win a Barnes & Noble gift card!!