I am excited and honored to have been presented with the very prestigious Irresistibly Sweet Blog Award, given to me by a writer pal JM Stewart!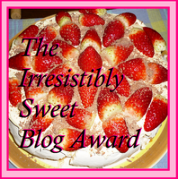 Receiving this award means sharing 7 random facts about me. Since almost everything about me is random, its hard to narrow it down to only seven!
1.  I am convinced that I have a personal assistant waiting to take down notes in my shower.  For whatever reason I am always rattling off my 'to-do' list in there.  I am going to fire that person because I still have to do the stuff myself!
2.  The reason I wear eyeliner everyday is because I can't apply mascara without smudging it.  The other morning my right eye was bright red, because apparently I also apply mascara to my eyeball. Ouch!
3. Up until I got married, I slept diagonally across the bed.  I bet hubby will argue that I still do, but I really don't.  There's barely enough room in there with him and the two dogs!
4.  Speaking of Hubs, we've been married almost eleven years and have yet to have a fight.  He must be the easiest going person on the planet.  If we ever get on each other's nerves, I guess we both figure it's not worth the energy to argue, so one of us always gives in or goes along with the other's plan.  I love him!!
5.  I have so many friends that when I plan things, I have to separate them into groups so feelings don't get hurt.  It's hilarious when I do have an all encompassing get-together, how many of them get along!  I'm serious, I've had 75 people squeezed into my house, for most I was the only common thread and they all liked each other….well there were a couple of exceptions…but yeah.  I'm a bazillionaire because I have so many awesome friends!!
6.  I've had some beautiful men friends and we've been BFFs without any complications.  It's hilarious when my girlfriends would melt or swoon being around them and all I could think of is…really?  Charlie???  Okay I guess he's all right, but girl, get up!!
7.  If there was ever such a thing as a calendar stalker, I would be it.  I love, love, love Calendars!!!  Let's not talk day planners I have to touch them and flip through them!  Cheesy huh!?
Now that you know my strange tendencies,  I'm passing the award to these bloggers.
Ladies, it's time to reveal 7 facts about yourselves and pass the sweetness.
2. Avery Olive
3.  Brinda Berry