Crap! Ah F*&k! Oh Goodness!  I exclaimed while waiting for a flight at the Charlotte, NC Airport.  I totally spaced what day of the week it was!
So instead of this post being on Wednesday, it's a Thursday post.  I hope I don't confuse the Favorite Five Fans too much!
My apologies to Raven, and thank you for being gracious enough to allow me a day!
With out further ado….Raven Bowers!!!
Favorite Beverage
Coffee! The world is simply not complete without coffee. * hugs the mug * Caffeinated of course and all sorts of coffee types and flavors. I keep Columbian and French Roast as pantry staples. No sugar but an ample serving of dark chocolate almond milk, yum! Or when I'm feeling very indulgent, real, thick cream. * dreams * It's also fun to try other flavors, right now I've got a bit of cherry flavored coffee I've been meaning to try. And oh, yes and who could forget Irish coffee?
Favorite Room in Your House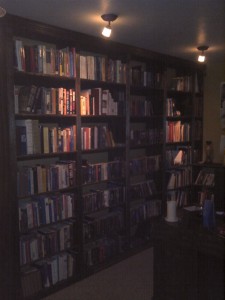 I spend about 90% of my time in our study. We designed it purely for writing and reading purposes so, it's hands down my favorite room. The colors were chosen to be soothing, classic and comforting – caramel gold and dark chocolates (candy bar!). We custom made floor to ceiling bookshelves that are now stacked with books, I keep telling Lain we need to make more shelves 

  My desk smack in the middle of them, which creates an inspirational writing space. Plus a thinner shelf for displaying crystals and a beautiful plot wall where we tack our scene cards up for whatever novel and script we're working on at the time.
Favorite Place in Town where you live
The cemetery in my backyard  

 it's coming along really well and I hope to have the sitting nook in this year so having wine and coffee out there is a little more comfy. We'll be working on the headstones in the next month or so.
Favorite Outfit
That depends entirely on my mood, which tends to shift like the winds and tides. I'm not so hooked on a particular outfit as a color spectrum. I lean heavily to jewel tones – deep purples, sapphire blues, ruby reds and emerald greens. And of course blacks and grays.
My favorite book is always the one I'm actively working on (characters get jealous that way…). Right now, that's a romantic adventure fantasy on the high seas! The cast is a blast and loving the nautical themes and settings. It takes place a week after the events in my upcoming novella, Nymph's Lair, and includes the same cast plus some, most notably the heroine of the series.
What's been particularly interesting is working with my first dwarven character, Tigs (named in honor of a sweet kitten we lost a few years ago). I'm normally an elf person, but have rather enjoyed working with this particular dwarf.
Author of the Apparitions series, Apparitions, Wendigo & Rags Beneath (2012)
The Vengeance series, Primal
The Weeping Dark series, Bleeding Edge (2012/13)