I love books! To me reading is like nothing else ever.
I miss having three large book stores and a bunch of little book shops in my home town, now we only have one large chain book store and two smaller ones.  Nothing beats strolling down aisles, browsing through bookshelves laden with books, title after tantalizing title, each one a story like no other.
I buy, exchange, loan, collect and borrow books. Oh and sometimes I get books as gifts! Also when I go to conferences, I grab all the books I can. What to do with all those books?
My hubby is also an avid reader, although his collection is much smaller than mine. Over the years I've used different things to hold our books. The last few shelves I've picked up are perfect for my growing collection.  I have a set of two ladder shelves, which work nicely leaned up against the wall in my bedroom.
In the spare bedroom a white metal shelf hold my hubby's collection of books.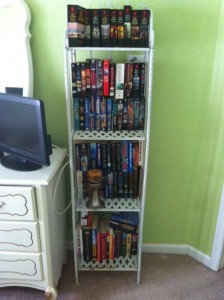 I know this looks really neat and orderly, but I straighted it up just for y'all – usually they're not as nicely stacked.  There are also some in a couple boxes in the closet waiting to be sorted.
I would love to have a library, a room full of books like I've seen in movies and read about in books.  How about you?  Where do you keep your books?