Fernando is my nephew he is a graduate of University of Georgia and now works as an research assistant for a non-profit organization studying PTSD affecting American servicemen.  Although he spends most of his time researching, he also reads as a past time.
What is your favorite book & writer?  The Catcher in the Rye by J.D. Salinger  My favorite author is Oscar Wilde.
What is your favorite line from a book? "She was all of these things and of something more" from A Tree Grows in Brooklyn.
Name one thing on your bucket list.  I'd like to go visit penguins in their natural habitat, Antarctica or maybe go volcano luging.
If you could speak with any person, past or present who would it be?  Abraham Lincoln because I feel like we'd have similar interests.
Name one thing you hate.  Hate is a strong word for me; but I have a hard time with people that prey on children.
What author influenced you to pick up reading?  Oscar Wilde, specifically the book "The Picture of Dorian Gray".
If you could travel either forward or back to any time what era would you pick and why?   Shakespearean England and kick it with old William give him some tips on Hamlet.
Which book genre are you reluctant to read?  I am reluctant to read romance.  Why?  I don't mind the falling in love part, but they can be sappy, of course I probably haven't read enough to make that assumption.  *He is reading my book though, well at least it's on his nightstand.*
Who is your favorite heroine?  Francie Nolan from "Where A Tree Grows in Brooklyn" She was very inspiring.
What kind of cookie are you?  Sugar Cookie, nice and sweet. *smile*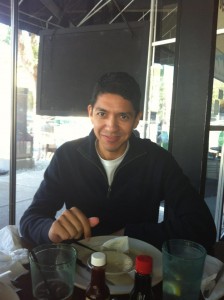 He is a sweetie!  I appreciate him allowing me to torture him for an hour to get this interview done!!