Welcome author Laura Bickle, who took my challenge of studying this picture and writing a short tale about it. Keep going to read about her books Embers and Sparks!
Let's see how she did!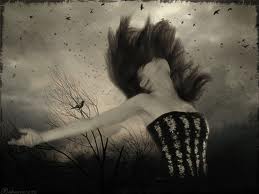 The Memory of Ravens
by Laura Bickle
The ravens always spoke to me.
I listened to their cawing outside my bedroom window when I was a child, chattering in their own hoarse language. As I grew older, I always remembered to feed them whatever stale scraps we had left in the kitchen. My father called them 'gossip birds' – news traveled fast in their community, and they often knew things we didn't.
I wondered if some of the old rumors my father told me were true, if they could be taught to speak the human language. I was determined to try, nattering at them incessantly as I doled out crumbs of bread. They would flutter and call to me, but only in their own words. I couldn't tell what they said, but I could always tell if they were frightened or happy, by the volume and pitch of their cries. Sometimes, they would leave me beautiful glossy feathers as gifts, in return.
I remember when a black swarm of them came down on the neighbor's fields one summer, devouring his wheat. My neighbor carried his gun out to the field to shoot them. I cringed, watching him go, wondering how many ravens would have to die before he'd feel his crop was safe.
It only took one.
I heard the loud crack of a shot, and then the shadow cloud of ravens took to the air, cawing. They left in a cacophonous, seething mass of wings, rattling into the grey sky. After they went away, I found their shiny black feathers for weeks, perched in the wheat like dark flowers.
They never came back to my neighbor's field. Not a single one. Not for generations. They whispered of the danger among themselves, muttering over their eggs, and never returned. That place was forever marked as a wicked place for them. I have never seen one alight in that field, to this day.
It came as no surprise to me, then, that the ravens knew when the end of the world came.
I woke up one morning to a terrible sound, the same hoarse bird-shouting I'd heard in the fields. I looked up to the sky, saw great murders of them blotting out the sun. They were moving from north to south, like black ink in water.
I knew that something was wrong. These wise birds knew something I didn't.
I picked up my skirts and ran into the house, my heart pounding with the certainty that something terrible was coming.