Sharing an excerpt of my novella Desperate Choices, on sale now through Amazon for only 99¢!  The perfect way to introduce yourself to the Protectors…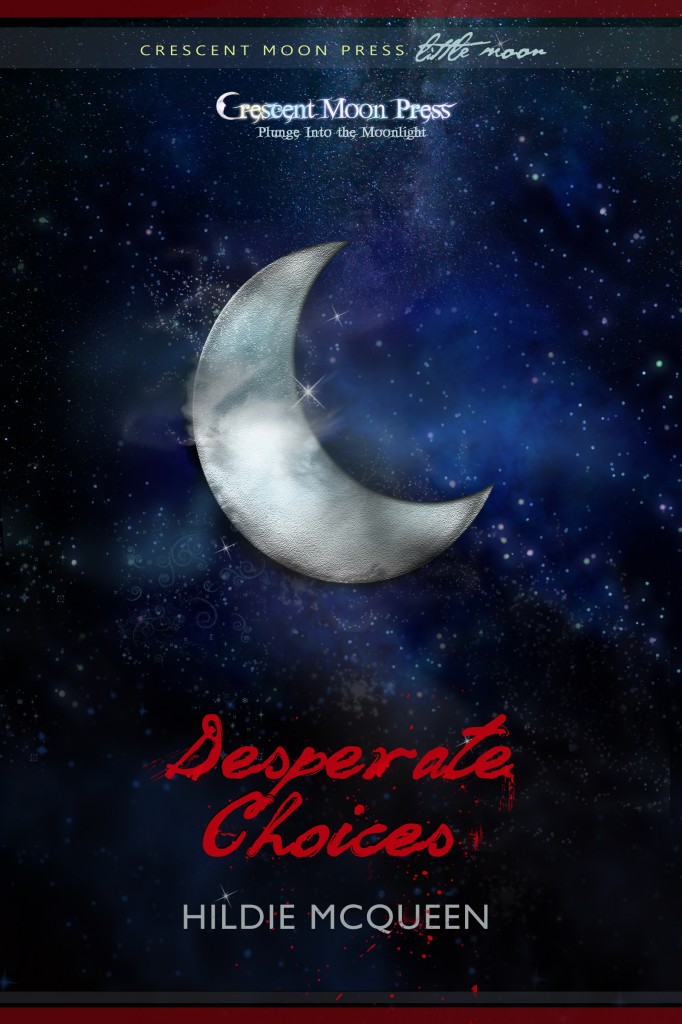 Chapter One
Two thoughts struck Rachel Andrews as she faced certain death.  Her mother's warning to never pick up hitchhikers and…well I'll be damned, demons really do exist.
With amazing speed, razor sharp talons slashed through her seatbelt and the hellish creature dragged her between the seats toward the back seat. Rachel struggled to grip on to something, anything.
He was too strong.
In desperation, she continued to scratch and kick at her assailant without avail. Finally, barely able to lift her leaden arms, she concentrated on catching her breath and not allowing fear to cloud her mind. Maybe she could still survive.
Red-rimmed eyes scorched her at the same time claws cut into her left shoulder, pinning her to the back seat.
"Pl-please take my car and my purse…but don't kill me." Her words were a hoarse rasp working past constriction on her throat by his other hand.
His lips peeled back to reveal elongated, fangs. With a stifled gulp, she recoiled further into the leather.
"Oh but those last drops of blood when life ebbs out of your body are the sweetest. You don't expect me to deny myself of that would you?" Saliva dripped from his incisors. His horrifying gaze focused on her throat next and with a primal growl, he shoved her face to the side.
When the demon's teeth broke her skin, a primal scream tore deep from within her chest.  Survival instincts kicked in and again she began to kick and punch at the demon. Her feeble attempts to shove him off of her didn't seem to register, his hold remained tight. It fed with greed, each pull of drink bringing her closer to death.
Suddenly it evaporated. A thick blue mist took its place.
A huge figure loomed over her.
Whether real or a hallucination brought by her brain as an escape mechanism when she neared death, Rachel wasn't sure.  Striking silver eyes pinned her, matching long hair framed the angelic warrior's face.
"Can you hear me?" His deep voice resonated and his fingers pressed against her throat. Was he feeling for a pulse?  "It's going to be all right. I'm here to take you to safety."
Rachel couldn't reply, but her mind was awhirl. For the first time in four years, she'd taken vacation from the library only to make it a few miles away from home, to the outskirts of Atlanta. She should have stopped by to see her mother, the only person she feared leaving, and seen her one last time. Her Mom would be the only one that would miss her.
Her vision began to fade, now if only the burning would. The searing pain at the spot where the demon fed brought a shudder. God make it stop.
The male before her had to be Death, he'd come for her. She was dying—the sooner the better. Then the agony would stop.
The large angel of death began to blur. It was her time and she prepared herself. She opened her mouth to ask him questions, but instead a fog fell.
The tunnel was long and dark. Mist swirled around like the inside of a tornado, and in the far distance was a shining beacon of light. Rachel struggled to float toward it, but the opening got further away when she moved forward. Battling with all her might, she was finally able to reach the entrance and began to emerge.
Prying heavy eyelids open, the surroundings began to come into focus.  She lay in the middle of an enormous four-poster bed in an unfamiliar bedroom. Rachel scanned the area from under her lashes.  A light from outside the cracked doorway provided just enough light for her to see. At movement, she looked to find she was not alone.  Barely able to contain the instinctual gasp, she saw him. The massive death angel was in the room with her.
A towel wrapped low around his hips, he swore and dug through a drawer.  "Where the hell are my damn shorts?"
He had to be well over six foot tall, closer to seven feet. His broad muscular back bunched and his biceps bulged with each motion. He closed the drawer slowly and opened another.  Letting out a breath, he pulled out a pair of grey shorts. When his towel slipped he didn't bother to tighten it, instead he yanked it off. Her eyes widened at the sight of his bare bottom.  This was one hell of a good-looking guy.
In his nude splendor, he padded toward what she assumed was a bathroom, only to freeze mid-step.  A muscle on the side of his face twitched and he turned toward her.  This time the sharp inhale did come. To her horror, Rachel's fascinated gaze plummeted to the spot between his legs.
"Wow." Crap did I just say that out loud?
He slammed the towel into his private area, covering what had to be the largest male part she'd ever seen. A frown formed and he pinned her with an annoyed look. "How long have you been awake?"
Click here to buy Desparate Choices at Amazon