It's that time of the month when we [authors] admit our insecurities.  Thanks to Alex J. Cavanaugh for starting this group.  He rocks!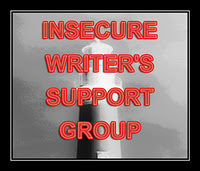 I had to narrow mine down, how sad is that!  Seriously, what is going on with me?
First thing:  I want to write a second Western, I am pretty sure of the storyline and who the characters are.  But… I'm forcing the story and it's not coming.  I know that when a writer pens a 'cookie cutter' story with cardboard characters, then it's going to be bland and not a good novel.  So I will keep pushing forward although this lack of direction is bugging the crap out of me!  And I'm going to take a deep breath, do what I usually do in these instances — I am going for a long drive.  Wish me luck!
Second Issue is well marketing.  I feel like I'm being annoyingly pushy by asking people to buy my book. I want to share my story, I'm pretty sure people will enjoy it, but I am not fond of the marketing aspect.  Any advice?