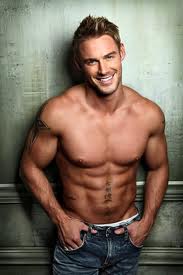 It's late in the day and quite cool in Midtown, Atlanta as I huddle in the booth of a small café waiting for Cynden (Cyn) Fraser to show up so I can interview him.  The over three hundred years old, Scottish warrior has been working as a demon slayer in Atlanta for almost five years.
I don't have to look up to know he enters because the air seems to change and people stop mid-sentence to stare toward the doorway.  I look up, see him and can understand why.  At about six foot three, the wide shouldered muscled demon slayer strides with an easy gait to my booth.  Probably used to people watching him, he doesn't bother to look around, yet he is alert as ever because he suddenly turns and locks gazes with a guy whose eyes widen before the man looks away. "Demon," Cyn mutters, "not a threat."
He's wearing dark jeans and I catch a glimpse of a light blue pullover under his worn black leather jacket.  He doesn't bother removing the outer garment. He slides into the booth across from me.
Cyn (C):  Hello Hildie, long time.
Hildie (H): Hi Cyn, thank you for taking a few minutes to meet me.
C:  Sure
H: How's Blue doing? (His teenage son)
C:  He's doing really well, spending too much time on that computer game of his, but I can't complain.
H:  Are the street of Atlanta getting any safer?
C: (Looks out the window) I wish I could say yes, but that would be a lie. Its safe enough I suppose.
H: Doesn't sound like you guys are winning the war. How many Protectors are in the city right now?
C:  (Gazes past me in thought) Let's see there's Kieran (his brother), Roderick (A Spartan), Logan (1800s Cowboy), Fallon (17th Century Lord) and me, so five.  We're keeping pretty busy kicking demon's asses, we could probably use a couple more. We do what we can, but you're correct we are a long way from winning this war.
H:  What can you tell me about Emma?
C: (Lifts an eyebrow) Without ruining the story for your readers?
H:  Yes don't give too much away. (I laugh)
C:  She's amazing.
H:  That's it?
Cyn:  (He seems to be pondering his answer) She's the first thing I think about when I wake and the last person I want to see before falling asleep. I guess you can say I've got it bad.
H:  Wow. Let's change the subject. Okay what is it like being immortal?
C:  (shrugs) I suppose it's like anything else. I know that I will be around for a long time so I don't get close to humans because they will age and die and it hurts to lose friends.  But like anyone else, I can be killed so I enjoy the simple things in life.
H:  How did you feel about becoming a Protector in the beginning?
C:  I was young, early twenties when I went through the changes.  That couple of years were tough as hell.  I grew taller and filled in, my senses became keener and I hurt all the time.  I was relieved to finally find out what happened to me, that I was predestined to be a demon slayer.
H:  After your Laird (Older brother Malcolm) found out from your leader Julian about your destiny to become a slayer, what happened next?
C:  I went to Rome to train with immortal gladiators for about six months.  The length of our training depends on our abilities. Since I was already a warrior, I got it pretty quick.  The hard part was leaving Scotland.
H: Do you ever feel guilty at killing demons?
C:  Not really (he frowns) I kill only those are a direct threat to humans, most are about to kill a victim when I arrive.  (He looks at his watch) I better go its getting dark.
H:  Thanks again for stopping by.
Cyn leans forward and gives me a peck on the cheek.  He smells great and I beam at him.  After a quick flash of his dimples, he gets up and leaves.
Deep Sigh.
Learn more about Cyn and his love interest Emma, get your copy of Desperate Betrayal today.