What if…
How many times have we asked ourselves 'what if?' and used it as a reason to stop whatever we planned to do? It's stopped us from something we really wanted to accomplish, but were scared off by the 'what ifs'
What if Benjamin Franklin decided not to take a chance on his little 'insignificant' experiment because, what if it went wrong? And what if Abraham Lincoln did not run for office because, what if he lost?  Martin Luther King, could have decided not to speak in Washington, because what if noone showed up?
No matter how small your dreams are, and the what ifs that pop up in an effort to block them.  Remember - great things could happen, but you'll never know if you let the what ifs stop you.
It kept me from writing for many years, now I'm so glad I didn't allow the what if's to continue to stop me!  I'm so happy to be where I'm at today, a published author, with so many wonderful writer friends and a promising future!
# # #
A big Howdy to a writer friend of mine that I want to recommend to y'all.  Patty Froese writes Inspirational Romance that combines humor with the big sigh factor.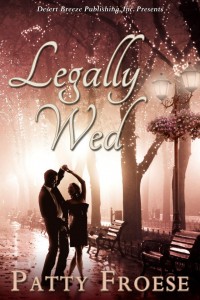 When Rich McConaughey comes back to town, divorce papers in hand, he's in for more than he bargained for. Lisa Young, the woman he was married to for six months, hasn't changed a bit. His mother has though… she's gone from matronly to meow, and his father has taken off with the secretary. Does anything last anymore?
Lisa Young feels chained to the hardware store her family has run for generations. How can she tell her father that she hates the family business? When Rich walks back into her store asking her to finalize a divorce she thought was behind her, she thinks that the answer is to sign on the dotted line and move on. Except, Rich isn't making it so easy… and God has other plans.
For better or for worse, when you're legally wed, things can get complicated.
Click here to buy Legally Wed
Have a beautiful week!