Motivated from attending Olde City New Blood in St. Augustine Beach.  Wow, let me just tell you that inspite of some quirks like the loud parrots in the lobby, most of us who attended had a Ginormous Blast!

I have a list of things that I learned from attending events to share with you today!
#1 – Don't front.  Writers are great people.  Honestly even the ones I had to mentally prepare to approach *cough* Pamela Palmer, turned out to be the sweetest ones!  (eeeek, she came to my pool party)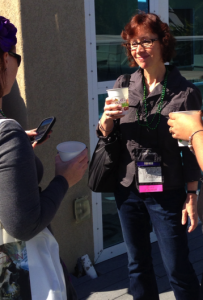 I was blessed to hang out with "NY Times Bestselling Author"  C.J. Ellison – (hee hee, I can see her cringing, but giggling at her new title) who showed me that everyone just wants to have fun, be part of the fun crowd and hang out!  i.e. Damon Suede and Lucienne Diver here hanging around.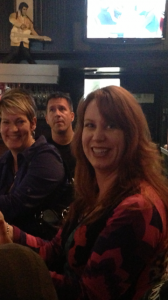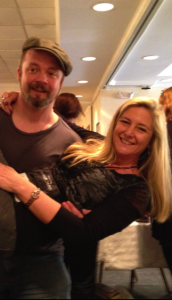 #2 – When in doubt throw a party!  Yep that's right, you're not sure what to do for your meet and greet?  Pick a theme, throw food, drinks and music in, stir the pot and guess what? It becomes a party! Everyone has fun and never realize you were not sure what the hell you were supposed to do!  It really works, just ask Laura Kaye and Rosalie Lario!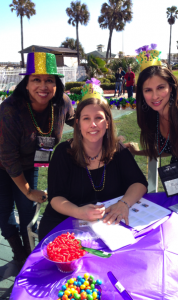 #3 – Don't forget to give swag to Hotel staff, restaurant staff, gas attendants, the homeless person on the corner, well he actually got a hamburger and some candy, but you know what I mean.  Everyone is a reader!!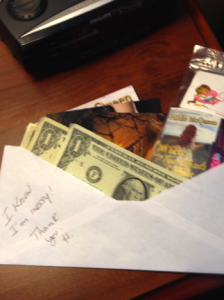 #4 – If you don't remember anything else I've said.  Go with the mindset that you are going to have lots of fun, make new friends and if you're lucky, they will remember you fondly in return. I loved these girls from Literal Addiction!  I am so throwing some fun colors in my hair girls!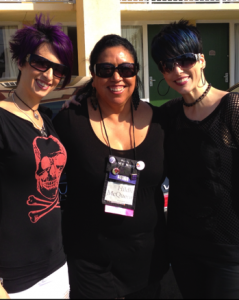 #5 – MUCHO IMPORTANTO – yes that's not real spanish! Just understand how important this is.  Always thank the planners who host the events.  It's a lot of hard work.  Just look at their poor little dazed faces during the event.  If something goes wrong don't bitch, just roll with it.  Sometimes mistakes make unforgettable moments.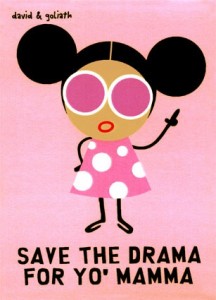 #6 – Lastly…Take lots of pictures so that the people that didn't make it can visually participate in the fun.
Where are you going next?