The Latest From The Queen
Available Now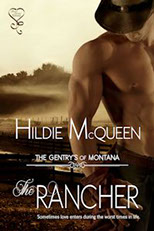 So much to share with you!
The Rancher is out. It is the first of a trilogy, The Gentrys of Montana. The second one, The Marshal, will be out in October. These westerns are a bit spicier than the Shades of Blue, so be warned.
In October, I will be part of an amazing bundle with 13 other authors. Hometown Alphas is a compilation of books about sexy men who happen to be heroes. My book Even Heroes Cry will be about a man who returns from war with severe PTSD. I have done a lot of research and am heartbroken from what I've learned.
The other authors and I have decided to donate all the proceeds from the Hometown Alphas bundle to Pets for Vets a wonderful organization that helps the men and women who return from war deal with PTSD by assigning them a furry companion. We are very excited to be in collaboration with them.
Hugs!
Hildie
Hunky Hump Days on Facebook
Don't forget to "Like" my Facebook page to keep up with the Hunky inspirations.