Let me introduce you to my author friend Aaron Ritchey whose awesome book The Never Prayer is one-year-old today!  I have to tell you guys if you haven't read it yet, do it now! Personally, I think the perfect way to celebrate the story's birthday is to order your copy today.  The e-book is only $2.99 on Amazon.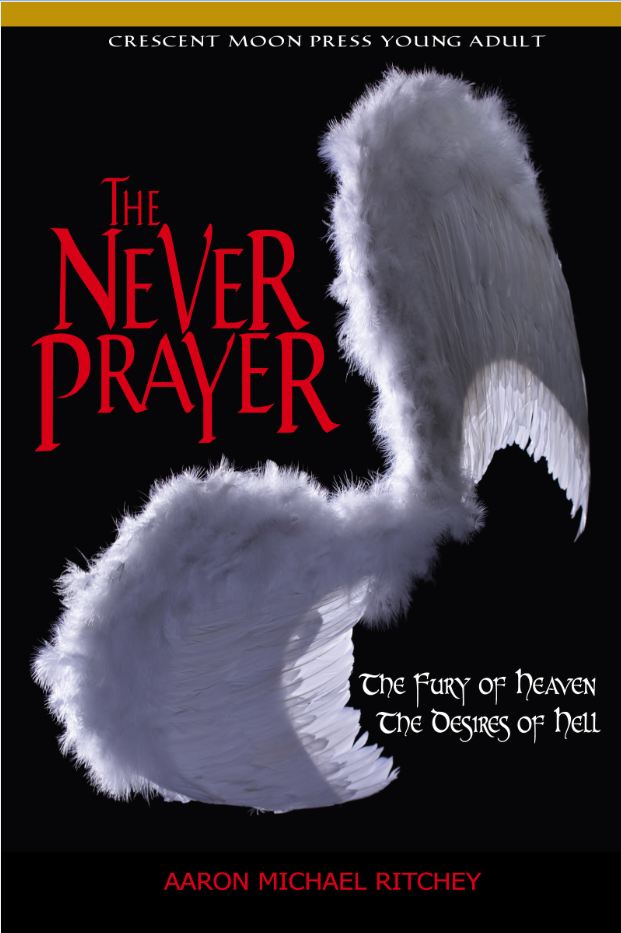 Hi Aaron, welcome to Hildie's wacky world! I'm a fan of short and sweet interviews so not too many questions, but please make your answers as long as you wish. 
Hildie:  How has the journey of The Never Prayer been since publication?  It's received some great reviews, what have you experienced when readers who've read it approach you?
First off, honored to be here, love that Hildie McQueen and can't wait to read her western.  Thanks so much for having me!
You know how most writers get a book published, then take a break to market their published book, before going to write another book?  Yeah, not me.  I can't not write fiction.  Seriously.  I'm getting a little concerned.  I wrote 140,000 rough draft over the course of last year, and I polished another project up in my critique at the same time.  As well as blogged, wrote a short story that's going to be in a steampunk anthology, Penny Dread Tales Volume 3, and basically, I've been working my butt off.  So the last year has been heart-attack amounts of work.  But totally worth it.
The best part is having people, other than my mom, read my books.  I've been writing fiction for twenty years.  Most of that time I was alone in my basement.   Now, other people can see my words, and it's great.  I have German teens and Filipino women who are iffy on The Never Prayer.  But I've split the 80 year-old nun market.  One read nun, loved it, while another couldn't get past the first page.  So I got THAT going for me.
I love writing.  I love telling stories.  I love my characters.  Only death will stop me now.  And even then, I'm sure I'll be making stuff up with Jesus in heaven.
Hildie: I know you're working on something totally awesome now. Tell us about it!
Ready?  Are you ready?  No, really, get ready.  It's a YA Steampunk Biopunk Sci-Fi Western Family Drama Epic!  Epic, I tell you!  I'm already in the first stages of querying, though I believe so much in this project I'm about ready to sell my house, indie pub, and tour the globe until every man, woman, and child has either bought a copy, or told me to go away.
Here's my official query letter pitch.
Dandelion Iron is a 120,000 word YA Sci-Fi Western Epic.  With a little steampunk and romance thrown in to spice things up.
On an impossible cattle drive across a wasteland, three sisters fight over a boy in the not-so-distant future where boys are rare and electricity doesn't work.  The oldest sister wants to leave him to die since boys are so much trouble, the gunslinger middle sister wants to sell him, and the youngest sister falls in love with him.
I have two other projects that will hit before Dandelion Iron is set in print.  I have two sequels planned, to round out an epic trilogy of earth-shattering proportions.
Hildie: What inspires you to write?  Where do you prefer to write?
I don't believe in inspiration when it comes to my writing.  I believe in getting up early, or staying up late, or both, and typing, lots of words.  I think inspiration is a lie.  I think the divine act of storytelling is powerful, but only when my butt is at Starbucks, writing for hours on end.  Sometimes what I write is amazing, and sometimes it's crap, but I don't get a say until it's time to edit.  Even then, a lot of times my muse just takes over and slaps me around.  I wish I had more control of my creative life.
Where I prefer to write?  Well, I hit my local coffee shop, flirt with the baristas, get a decaf coffee with a little steamed soy, turn on some music, and start pounding out words.  Period.
Hmm, now that I think about it, maybe it's the cute baristas that are the inspiration.
Hildie:  You've told me you're a big literature fan, so let's say books are gone, television is gone.What would you do if you had an entire week to spend by yourself?
No books?  I would write 'em.  That's what I do when I'm bored.  I see something, and I think, "Man, that's cool.  What if spiders were the size of dogs?  Going down into the basement would be a total adventure."  I'm thinking of a middle grade book set in a world where prehistoric insects are running rampant.
See, I'm doing it again.
Okay, I tried to keep my answers really, really long.   But I'll leave you with a quote:
Once writing has become your major vice and greatest pleasure only death can stop it.
–ERNEST HEMINGWAY, The Paris Review, spring 1958
I will raise my hand on that one.  Guilty.
More about Aaron Ritchey.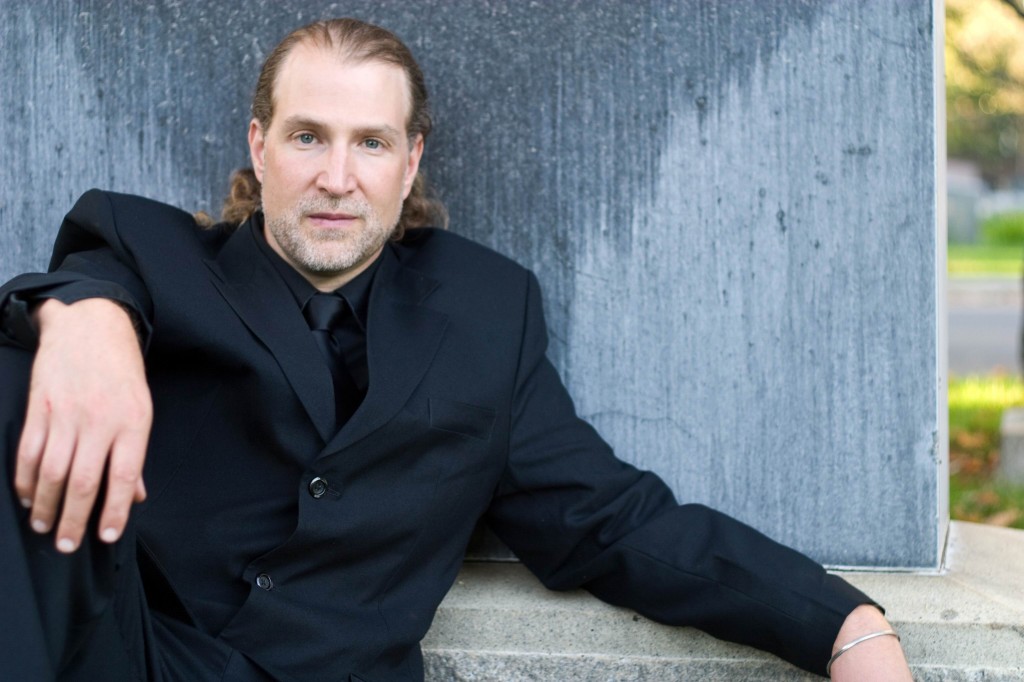 Aaron Michael Ritchey was born with Colorado thunderstorms in his soul. He's sought shelter as a world traveler, an endurance athlete, a story addict, and even gave serious thought to becoming a Roman Catholic priest. After too brief a time in Paris, he moved back to the American West and lives semi-comfortably with three forces of nature: a little, blonde hurricane, an artistic tornado, and a beautiful, beautiful blizzard.  The Never Prayer from Crescent Moon Press is his first novel.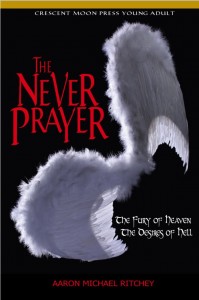 The Never Prayer
Shattered by the death of her parents, Lena knows she is not handling her sorrow well – keeping to herself, running drugs, risking her little brother. But she'll do whatever it takes to keep her disintegrating family together.
Lurking on the edges of the afterlife, Chael and Johnny Beels have spent centuries manipulating events, one pushing for good, the other sowing chaos. Now these two desperate souls have taken human form to play a dangerous game of hope and despair with Lena trapped in the middle.
Lena must maneuver the shadowy realm between angel and demon, love and lust, good and evil, until she finds the courage to see the truth and make the ultimate sacrifice.
For more about me and The Never Prayer, you can visit us both at www.aaronmritchey.com.  And of course, I'm on Facebook, as is the book at http://www.facebook.com/TheNeverPrayer.  And I tweet – @aaronmritchey.  Reviews can be found at the Goodreads page, http://www.goodreads.com/book/show/13565800-the-never-prayer.   If you are at all curious about the novel, our friends at Amazon.com would love for you to visit them! The ebook is on sale now!  http://www.amazon.com/The-Never-Prayer-ebook/dp/B007P6ISSS
Now for the best part!  Aaron is giving away a signed copy of The Never Prayer to one lucky commenter.  And the first three people to follow him on Facebook will receive an e-copy of the book!!!
Happy Birthday The Never Prayer!!!