First Indulge me
For an intriguing insight into the brain of yours truly in Writing my newest Protector Novel: Desperate Surrender, visit the following sites for an ongoing giveaway and well more of me!
        Gloria Richard – An Author's Blog
The Perfect Purse for Author Events
Yes I know we usually get a tote from the writing conference or author event, but they are bulky and if you fill them with your personal crap they become cumbersome.  Plus they are to be used to collect swag and free books!  duh right?
Admission, I am a purse watcher stalker lover.  The first thing I notice about someone is the type of purse they are carrying.  I have a fetish and I admit it.  Catching a glimpse of a unique Coach, a Louie or an unusual purse at a conference makes my day.  However, for practicality, this is the purse I recommend. (Click on Pictures to enlarge)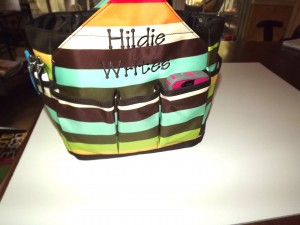 Okay, Okay – It's not a purse, it's a small tote (13″x8 1/2″)but stay with me here and I'll tell you why it works.  (This specific one is available through Initially Yours, Inc $30, but you can find the style at other places)
Why it works…
First, note the embroidery (name recognition)
It's Light
And – LOTS OF POCKETS!!!
What to put in it?  2 Clear bags (ziploc bags work) Yes I know a second fetish obsession love (ziploc bags)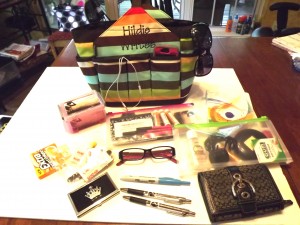 Bag #1 – Giveaways (pens, lip balms), postcards, other small swag stuff (about 5 of each) you can refill them as you go from your rolling tote

Bag #2 – Personal Items like Lip balm, compact mirror, eye drops, nail file, bandaid, small comb or brush, headache or allergy pills
Item #3 – Cards. A bag or plastic container with a stack of business cards (List your author name, book series or title of your book, web/blog address and email)  Don't put your home address or phone nbr on these.
Item #4 – Small wallet
Item $5 – Cell phone
Item #6 – Reading glasses/Sunglasses
If you carry an iPad it also fits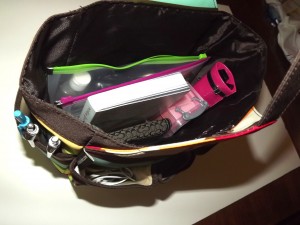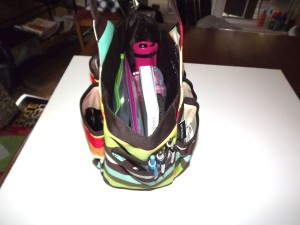 There now you have it!  What do you think?
Next Monday, we'll talk about traveling to conferences!  What clothes to pack?  You're going to love it!!
To purchase the featured bag:  www.myinitials-inc.com/Favorite