I was interviewed by a great writer, Aaron Ritchey and one of his questions was "Who do you write with?" I had an answer right away because I understood what he meant.
Writers need other writers for support, to bounce ideas off each other and because only another writer understands the language. If I tell a non-author friend that my character stopped talking to me, they will nod and get that vacant 'what-the-hell-is-she-talking-about' look. Where as a fellow author will say "Give him a day or two then demand he speak to you."So for those of you that don't have a support group…GET ONE!  Attend local writing groups, you can find them on Meet-up or through genre chapters.  If you write romance, I encourage you visit your local RWA chapter.  Join RWA at least for one year so you can join the state chapter.  Attend several meetings, at first you may feel awkward, but you'll soon find out that because writing is such a solitary art, most writers are very welcoming in group settings.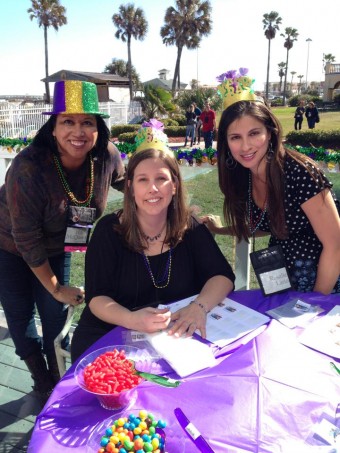 (Laura Kaye, Rosalie Lario and Me at Olde City, New Blood in St. Augustine, FL)
If you haven't yet, join a yahoo critique group. Sometimes through critique groups, you'll find one writer you'll connect with and from there build an internet Authromance.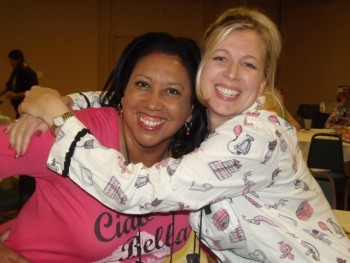 (Ciara Knight and I at Romfest, Gatlingburg, TN)
Now, one other way to connect that I find super fun is to attend writer/reader conferences.  I am a social person, so the hubbub of literary activity makes me tingle with excitement.  If you are not social, bring a reader pal along.  There are tons of literary events in every city, look it up and go.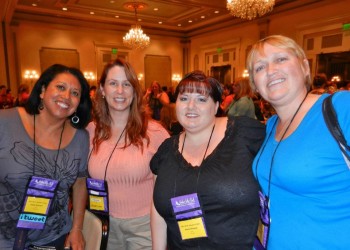 (CJ Ellisson, Rachel Firasek, Boone Brux and Me at Authors After Dark, New Orleans, LA)
Once you build a support group, believe me not only will your writing become better, but you'll wonder how you made it without it.
Thoughts?  Questions?