It occurred to me while at my last book signing that I needed a personal assistant checklist.  Each and every time that I go to a conference or book signing it never fails — I forget something.  At the Romantic Times book signing, I couldn't help but laugh with a fellow forgetful author who tapped my shoulder and asked for one of my pens.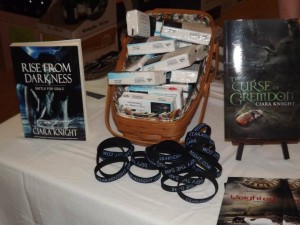 Here is my (work in progress) list of essentials that you must have whether you are attending a conference or book singing.
A sturdy, easy to maneuver rolling tote – It's so much easier than carrying a heavy box or oversized shoulder bag through crowds or narrow aisles.
Heavy Duty gallon and quart sized zip lock bags – I put three of my books per large bag to keep them clean, they have come in handy so many times when I need a book one or two.  I place my pens, swag and any other smaller items into the quart sized bags to keep them organized.
1 or 2 clear containers with cover – I prefer a container that is about 9" x 12" that fits in the tote.  I put my smaller zip lock bags that hold the items above inside of them.  All in one spot.
1 basket for display – You can use almost anything for displaying swag or nothing at all. I love the one weaved from recycled plastic, it's fun!
Pens for signing (I love the Sharpie ultra fine retractable)
Small easel(s) – You can grab one up for less than $5 at most hobby stores.  Use it to display your book (s)
A money bag with change – Cannot stress enough how much this also comes in handy.  I keep my money in a cute little cosmetic bag (not overly obvious) usually about $50 ($30 fives and $20 ones).
A roll of "signed by author" stickers
Bookmarks or postcards to insert in your book after you sign.
Is there anything that I am missing?  Let me know…..
GIVEAWAY!!!  Now go pack your tote, organize it and send me a picture to hildie(at)Hildiemcqueen(dot)com – The one that looks the best (IMHO) will win a free copy of Desperate Choices, my E-Novella!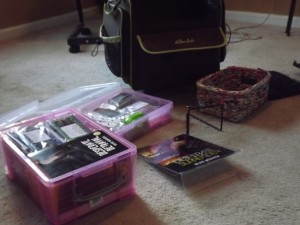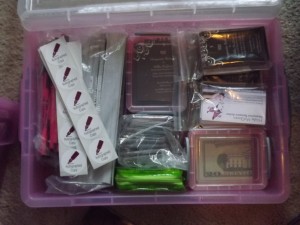 My Traveling Book Signing/Conference Kit
Everything fits perfectly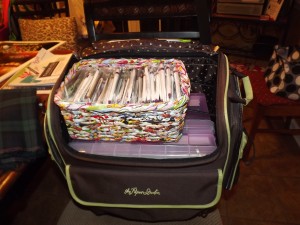 All Packed and Ready to Roll!