So I'm attending my first masquerade ball and I'm super excited.  Well actually it's "The Mystic Masquerade Dinner" Tonight at the Romfest 2012, in Gatlinburg, TN
Yes I'm at another writer's conference!  I'm hyped about attending Romfest since this is the first one ever! And not only that, but my WBFF Ciara Knight and I will be signing at the Books-a-Million in Pigeon Forge between 12:00 and 4:00 pm, so stop by if you happen to be in the area.  I'll give you a big hug!
I will be posting pictures later.
But for now, here is a picture of me wearing my mask!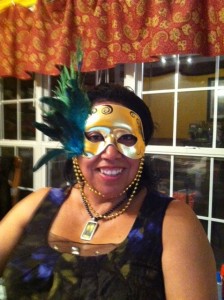 Hasta La Vista Baby!