In connection with Ciara Knight's blog, I'm participating in today's Did I notice your book blog hop! This is so much fun!!! Go to Ciara's blog to see all of the participating bloggers!  This is so much fun.
Anyone for a writing experiment? With all the new tools out there to monitor book sales and blurbs mentioned about their books, I'm going to highlight a book. If by the end of the day that author finds her book on this post I want her or him to tell us how they discovered it; word of mouth through the close network of writers, a Yahoo group mention, or through some new fangled Google tool.
How did this book catch my attention? As a reader, I usually look to genres I enjoy (paranormal mostly), a cover that catch my eye and lastly a blurb that draws me in.
Before I reveal my choice I want to clarify that this author has no idea that I've chosen his/her book.
The book I noticed was: Dealers of Light by Lara Nance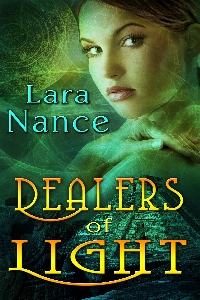 A malevolent group of Light-Dealers have surfaced in Cara Collin's hometown of Norfolk, Virginia. Led by an ancient Aztec demon, the "Takers" are torturing and murdering their way to world domination. As the horror spreads, Cara—who has the ability to send "Light" into others to augment healing—receives a special power from a patient making her a crucial weapon in stopping the Takers. But, she must figure out how to use the gift before the Takers make her their next target.
When mysterious Rolf Van Harding shows up in town with information that may help her, she's torn between joining his quest and running for her life. When she discovers he's a powerful, ancient Light-Dealer she fears their growing passion will be a weakness—a weakness that could allow the Takers to murder the last remaining Light-Dealer capable of stopping them.
I love the cover and was intrigued by the title, the blurb got enough of my attention that I went to Lara's website to read an excerpt.  Yes, this is now on my kindle!
Here are the other stops on the hop:
Action Adventure http://www.warriorsforlight.com/
Historical Fiction – http://emerylee.wordpress.com/
Inspirational http://www.christylasheasmith.com/
Mystery http://murdersandmysteries.wordpress.com/
New Adult http://lynnrush.com/
Non-Fiction http://raelynbarclay.wordpress.com/
Paranormal http://www.hildiemcqueen.com/
Sci Fi http://rustywebb.blogspot.com/
Suspense Thriller http://stephentremp.blogspot.com/
Sweet http://www.lindipeterson.com/
Urban fantasy http://lauraeno.blogspot.com/
Young Adult http://www.brindaberry.com/blog.html
Grand Central Station: www.ciaraknight.com