When I was sixteen I got my first job at a burger joint and boy was I ecstatic.  Anxiously waiting for every paycheck, I couldn't wait to get home so that I could give Mami money, then rush to Mexico with my sisters and go shopping, to the movies and dancing.
I'm facing a different kind of ecstatic, now at fifty I am about to embark on a new type of employment, full time writer.  When we (hubs and I) found out my job was going to be cut and moved to DC, we decided that it was okay for me not to work a full-time job and stay home.  It didn't sink in, seemed like I was walking in a dream state for weeks.  As excited as I am about it, when the lay-off letter arrived this week, I promptly went out with friends, got drunk and cried.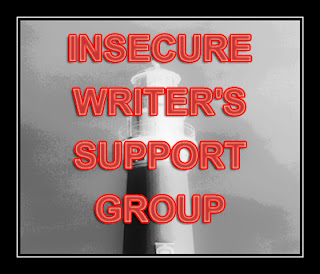 What am I insecure about?  Well I suppose it's the unknown.  I am safe and secure thanks to a wonderful husband.  I am confident in the fact that I have a great support system in the authors and publishers that I've met and work with.  A community of some of the most giving people on the planet.
And yet.
Why does a  tear trickles down my cheek as I look to the future and wonder?  Wow, I am going to be a full-time writer!  Is it really time for this dream to come true?
Thank you Alex Cavanaugh for this group, sorry I'm late posting.