The Sunshine Award is awarded to bloggers whose positivity and creativity inspires others in the blogosphere. I'm so pleased to have been awarded one by Jennifer Wells, author of Where Paranormal Meets Romance ! Go check out her blog here.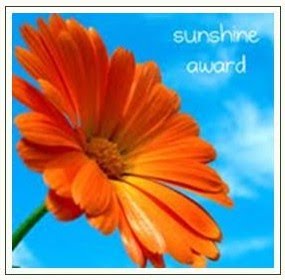 Here are the rules for accepting this award:
Link back to the person who gave me the award.
Answer the following questions.
Nominate ten bloggers for the award.
Link my nominees to the post and let them know about the award.
On to the questions!
What is your favorite Christmas/festive movie?
I am not that much of a TV/Movie person, it's rare that my television is on.  We have a Thanksgiving tradition at the McQueen hacienda.  We watch Christmas Vacation.  Nothing like those Griswald's to crack us up every single year.
What is your favorite flower? 
It's a toss up between Carnations, my mother's favorite and just a whiff and I instantly think of her.  My personal favorite is the Calla Lily.
What is your favorite non-alcoholic beverage?
Tea, cold tea, hot tea, Earl Grey tea…yeah I'm doing the Bubba Gump impersonation
What is your passion?
Aside from writing and reading…I love purses!  I LOVE PURSES!!!!
What is your favorite time of year?
Definitely the Fall.  I love the changing leaves and the crisp air. It's the season that brings families together.
What is your favorite time of day?
I'm a strange sort (shocker) I love the morning, hate the afternoon and then love nighttime. I seem to have bursts of energy in the morning and then later at night.
What is your favorite physical activity?
I don't exercise regularly, I know, I know, not good.  But when I do… I drink Dos XX's oh wait– oops wrong answer.  When I do… I go to a local yoga studio and do one and a half hour class of Gentle Stretching.  They fool dumbass people like me who fall for the word "gentle" and think it will be an easy class (those tricksters!)  I love it though.
What is your favorite vacation?
I go to Hilton Head Island on a regular basis. It's got everything I love.  The Beach, great consignment stores, gorgeous views  (yummy beach guys), yummy restaurants and an Outlet mall.
Here are some of my favorite bloggers and my nominees for the Sunshine Award: